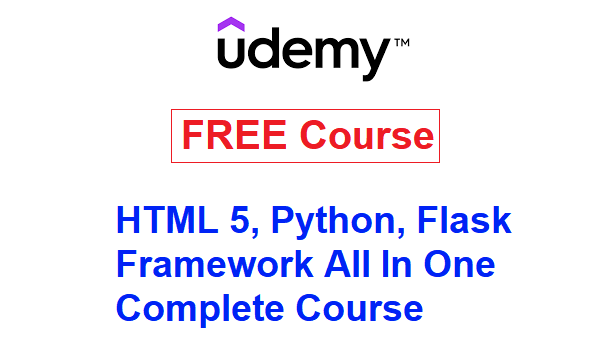 Free Course: HTML 5,Python,Flask Framework All In One Complete Course. Get the latest and top programming courses for free. Develop skills easily by learning these courses to crack the job in top company.
Course Details
HTML 5 Introduction, Use of Tags
Forms, Tables In HTML 5
Go from Beginner to Advanced in Python Programming by learning all of the basics to Object Orientated Programming.
Write scripts for general productivity tasks Read and comprehend Python code Gain knowledge in regard to general programming concepts Use variables to store, retrieve and calculate information
Utilize core programming tools such as functions and loops
Flask Framework Introduction
Flask Framework With Building Projects
Who this course is for

For Complete Programming Beginners
For People New to Python,Django And Flask
For People Who want to learn HTML 5 and Python Fundamentals and later transition into Data Science or Web Development
How to Get this Course Free?
Use the Code BDBB35C23CA34249F812 while enrolling for the course. Note: Code might get expired. So apply as soon as possible.
Enroll for the Course Click Here
Recent Post
Solera Off Campus Drive 2023 Hiring For Associate Software Engineer