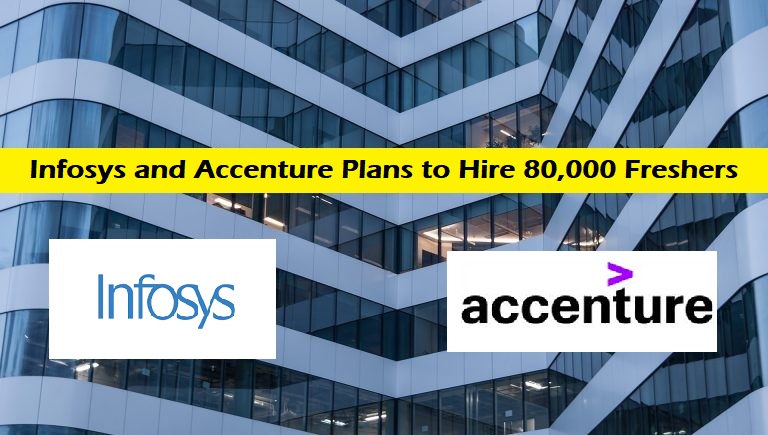 Infosys and Accenture Plans to Hire 80,000 Freshers in FY23. Gaint IT Company Infosys and Accenture will be hiring more number of freshers this year. Infosys will be hiring 50,000 freshers whereas Accenture will be hiring 30,000 freshers in India.
Infosys and Accenture Plans to Hire 80,000 Fresher
Infosys Employees are leaving the company due to this there is increase in the attrition rate. To reduce the attrition rate more number of freshers will be hired this year. Accenture will be hiring 30,000 freshers through the metaverse.
Infosys Hiring News
In the December 2021 quarter, the total headcount was 3,14,015, up from 2,92,067. After the announcement of its Q4 results, Infosys is most likely to increase the salary of employees in the coming financial year to compensate for the higher workload. The company has hired 54,396 freshers for this financial year and is hoping to hire over 50,000 more in FY23.
"In the last year, Infosys have hired 85,000 freshers across India and globally. Moreover, planning to hire upwards of at least 50,000 (this year) and will see how this plays out but that it just initials figures."
Apply for Infosys Drive: Click Here
Accenture Hiring News
Following an interaction with India's Union Finance Minister, Nirmala Sitharaman, in the US last week, Accenture CEO Julie Sweet in a video tweeted from the ministry's Twitter account said, "We are fortunate to have an amazing 300,000 people in India, and we truly appreciate the government's efforts to promote India as a great place to do business."
During the next fiscal year, the company plans to hire 1,50,000 new employees through the metaverse. Currently, the company has around 30,000 lateral jobs in India, mostly in Bengaluru, Hyderabad, Chennai, Mumbai, and Gurugram.
Apply for Accenture Drive: Click Here
Recent Post
Infosys and Cognizant Started Hiring Any Graduates
Paypal Recruitment 2022 Hiring Any Bachelor's degree for Data Analyst