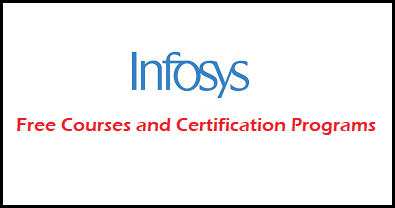 Infosys Free Courses and Certification Programs. Infosys offering various technology related courses and programs for freshers and experienced candidates across India. Candidates who want to learn new digital technology skills can register for the course offered by the Infosys.
About Infosys Free Courses
We aim to enable students and associated communities from early education to employment by enabling them on digital and supporting life skills.
The future of India will be shaped by today's younger generation who need quality education through digital literacy, making them productive and self-reliant citizens. 'Digital literacy' is the skills required to achieve digital competence.
Use of Information and Communication Technology (ICT) for work, leisure, learning and communication. It does not replace traditional forms of literacy, instead complements and amplifies the skills that form the foundation of traditional forms.
Skills Offered
Core Skills
Digital Skills
Life Skills
Behavioral Skills
Life Long Learning Continuous Education
Spoken English
Technology Training
Upload Resume and Get Relevant Hiring Jobs: Register Now
How To Apply Infosys Free Courses?