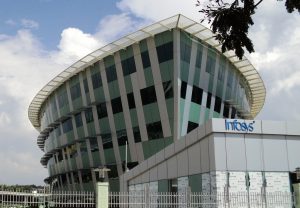 Infosys Limited, the second-largest Information Technology & Services company in India has announced plans to recruit 55,000 fresh graduates during the Financial Year 2022. As per reports, hiring will be made as part of the company's flagship global graduate program, which is taking place in a period when there is significant attrition of IT professionals in the major companies.
The Bengaluru-headquartered company's chief executive Salil Parekh said there are tremendous opportunities awaiting engineering and science graduates in the tech sector, but urged them to internalize that it will be a career where they will have to learn new skills at shorter durations.
"We will recruit 55k college grads in FY22. We think we will recruit that or a higher number in next year (FY23)," Parekh said while addressing IT industry lobby Nasscom's annual NTLF event.
He stated that Infosys plans to achieve an increase of 20 percent in its annual revenue in FY22, and this is an excellent opportunity for a new employee to join the company and develop.
For college students in the early stages, Parekh said that there are a lot of opportunities that will be waiting, but they must be prepared to learn new abilities in shorter periods of time.
The employees who are accustomed to their jobs could do by retraining themselves every 10 years too, but tech cycles will be shorter as time goes by and students in the midst of their careers will need to be able to compete every three or five years according to the report.
Apply for Infosys Jobs: Click Here
Join for More Jobs: