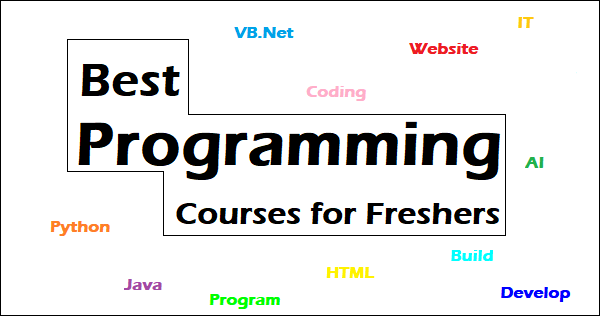 Best Programming Courses:
Popular Programming Courses for freshers to grow their skills in the software development field. Here is the list of 5 best Programming Courses for freshers to learn in 2020.
1. Python for Data Science and AI
Python is the most popular and widely used programming language. Learning Python will be a smart way to kickstart your career with higher opportunities in the software development industry. Python for Data Science and AI is a high-demanded course in the IT market. 
Many structured and unstructured data needs to be analyzed. Data Science includes algorithms, patterns, analytical tools, and technical methods to understand the flow of data and make decisions.
Python for Data Science includes Machine Learning, Deep Learning, Visualizing Data, and Big Data. However, coming to the job demand there are over 2.5 million jobs in the data science field.
Artificial Intelligence (AI) using Python is trending in the IT industry. Various concepts such as Natural Language Processing, Robotics, and Artificial Neural Networks. Python will be the perfect programming language for fresher to learn and start a career related to AI.
2. Java
Most of the developers in the world prefer to choose Java because it is the best programming language. Freshers or beginners can easily learn Java in a short period of time. It is considered as a most demanded programming course because it is open-source and platform-independent.
Learning Java will help fresher to get a core development job and the best salary in any IT company. Java has a large online community where fresher or beginners can get help in learning more complex codes from experts. Java Technologies includes J2EE, JSP, Hibernate, JSF and more.
3. VB.Net
VB.Net is a modern Object-Oriented programming language developed by Microsoft on the .NET Framework. Fresher can easily learn VB.net as it is well Structured language, platform-independent, and has large online community support.
For beginners, VB.Net is a demanded technology one can easily start learning the language without having any complex lines of code. It is also a popular and most of the companies required a .Net developers. However, Microsoft technologies are the most demanded and one can easily start their career as a developer in the IT industry.
4. Full Stack Development
Full Stack Development course will help you to become a web developer. They will work on developing both front-end and back-end of a web application. Many companies are demanding for a creative web developer.
Fresher can learn a variety of coding languages under the Full Stack Development course. Front-end includes such as HTML, CSS, JavaScript, JSON, Bootstrap and more. The back-end includes PHP, ASP, C#, Java and more. However, becoming a full-stack developer is complex and he must have all the knowledge of client-side and server-side. But, there is a variety of scope in this field you can stick to one coding language and become an expert by leaning all of its structure in depth. Ex. PHP developer, JavaScript Developer and more.
5. R Language
R Language is a programming language for implementing the environment for statistical and graphical methods. Freshers who have a interest in statistical and mathematical analysis can start learning the R language. 
Moreover, the R programming language also includes artificial intelligence and machine learning. It is a highly demanded programming language and a huge scope in the market. Freshers can easily learn the R language as it is open-source and platform-independent. Moreover, one can gain more knowledge in Statistics, ML and AI operations. The growth of the R Language is increasing day by day.
---
Join Telegram Group to get daily job alerts:
---
Freshers Jobs: Check Details