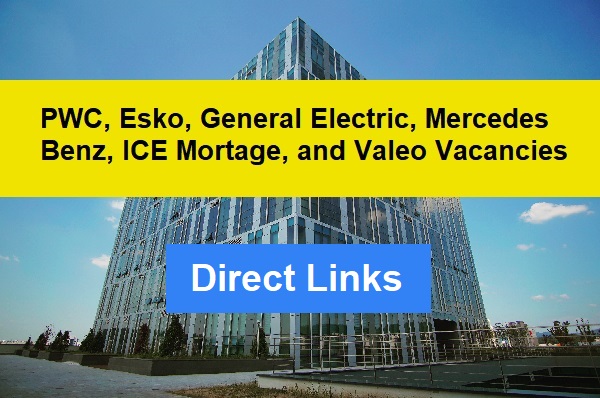 PWC, Esko, General Electric, Mercedes Benz, ICE Mortage, and Valeo Vacancies. Top notch companies are hiring freshers in multiple locations across India. Below are the complete job details of each company.
Join Telegram Channel: Join Now
PWC Intern/Trainee
Be curious and try new things.
Learn about how PwC works as a business and adds value to clients.
Think broadly and ask questions about data, facts and other information.
Support research, analysis and problem solving using a variety of tools and techniques.
Produce high quality work which adheres to the relevant professional standards.
Keep up-to-date with technical developments for area of specialism.
Uphold the firm's code of ethics and business conduct.
Mandatory Skills:- Investment Banking
Preferred Skills:- Corporate Finance
Qualification:- Pursuing Graduation
Years of experience:- 0-6 months
Job Location: Mumbai
Esko QA Engineer
Good experience in Printing, Packaging and Graphics Industry
Relevant work experience in software product testing
Experience in test case writing, test execution, analysis and reporting
Very good understanding of software development and testing process
Proficiency in use of Adobe Creative Suite (Adobe Photoshop & Adobe Illustrator)
Test data generation and selecting the right test data
Test execution and test reporting
Well-versed with various types of testing (like system integration testing, regression testing, performance testing, etc.,)
Good understanding of bug life cycle
0 to 4 years of relevant work experience in software product testing years (Graduates who have completed Engineering course in 2021 and who don't have any prior work experience can also apply)
Bangalore work location
Bachelor's degree in Engineering
Apply for the Esko QA Engineer
GE Healthcare
Edison Engineering Development Program
Contributes to the activities of the teams across rotational assignments paired with formal classroom studies.
Partner with teams from within the business unit to specify needs, communicates about project approach and presents outcomes.
Basic understanding of key business drivers; uses this understanding to accomplish own work. Good understanding of how work of own team integrates with other teams and contributes to the area.
Works within a team setting and / or under guidance from Assignment Manager.
Bangalore work location
Bachelor's Degree /Master Degree in Engineering (Computer Science, Information Technology or associated degree.
Mercedes Benz System design
Manage component pre-development of Mirror systems to meet quality, maturity, cost, weight, customer needs, Legal and special projects requirements
Co-coordinating with Packaging, Design, Simulation, Homologation, Sensor/Camera/Antenna departments and Other Cross functional Teams.
Working across cultures and time-zones to meet project requirements
Working in tandem with team in India and Germany
0-1 years of Experience in Automotive Glazing
Graduation/Post graduation in Mechanical Engineering or similar field
Pune work location
Apply for Mercedes Benz System Design
ICE Mortage Analyst

Analyst, Release Operations
Be a part of Global Release Operation team overlooking production releases across IMT product lines.
Employ deep troubleshooting and scripting skills to improve the availability, performance, and security of Ellie Mae Services.
Own the Collaboration with Cloud Platform, Operations leaders, and Dev teams for seamless production deployments and Configuration Management activities.
Support and proactively ensure services have 24/7 availability and operational readiness and rigor.
Passion for production deployments in highly agile environment.
BE in Computer Science, Computer Engineering, or equivalent.
Pune work location
Valeo System Engineer
Perform activities in compliance with Metier Development Plan of his/her PG/PL
Review Internal requirements, Customer Requirements, Specifications
In charge of the robust design / validation in line with the economical targets
Support technical architecture and standards assignments
Follow Standardization rules; Support design reviews, internal and with suppliers.
Remote Location (WFH)
Apply for Valeo System Engineer
Recent Job
Infosys Careers 2023 Hiring Assistant Accountant P2P