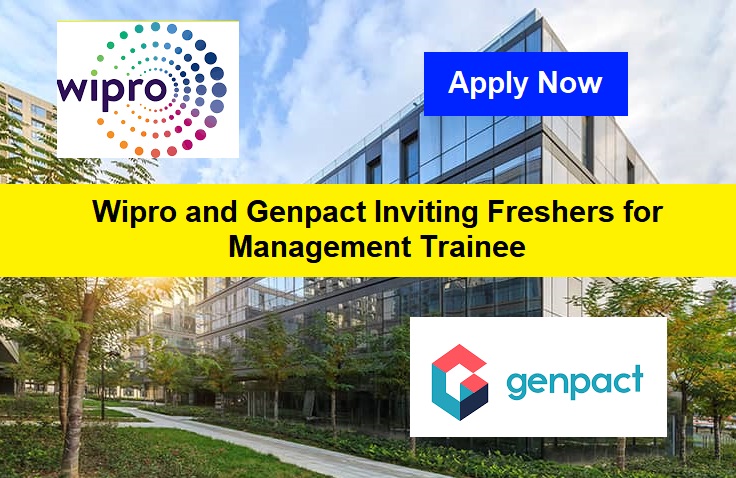 Wipro and Genpact Inviting Freshers for Management Trainee of Any Degree. Wipro an Indian IT company is hiring freshers with a graduation degree at Gurgaon location. Where as Genpact is also actively recruiting freshers for Management Trainee role.
Wipro and Genpact Inviting Freshers
Wipro Recruitment
Strong knowledge of Fundamental Accounting/General Accounting
Strong Knowledge on Investment Banking terms i.e. Capital Markets, Private Equity, Mutual Funds, Hedge Funds, real Estate Funds.
Strong knowledge On Excel- Functions and formulas
Strong knowledge of MS Office tools.
Excellent written & spoken communication skills, Analytical bent of mind
problem solving skills
Ability to Work efficiently and effectively in a team.
Accounting
QUALIFICATION MBA FINANCE (Only) with BBA/BBM/B.Com background
(Fund Administration, SPV Accounting and corporate Finance)
Assist in bookkeeping, preparation of financial statements and reporting.
Prepare and post accounting journals such as Revenue, Expense accruals, Tax accrual.
Perform end to end month end closure for certain holding entities SPV Finance and Expense Management.
Preparation of P&L account, Balance Sheet trend analysis, weekly cash report, cash tracking of capital activities, invoice processing, SPV financial statements.
Manage system setup, bank account creation and dissolution of SPV entities.
Participate in the process documentation efforts and creation of SOPs.
Identify process gaps and initiate process improvement projects.
Apply for Wipro Management Trainee Click Here
Genpact Recruitment
Own learner experience of Transform and Solidify stages in the Genome BITS journey

Run operations to ensure wave readiness for assigned channels through proactive planning for Transform and Solidify across skills and proficiency.

Moderate Transform session; engage with learners and Master Gurus/ Gurus

Schedule sessions along with Gurus and invite approved learners

Leaner data validation for T and S as applicable.

Learner engagement and proactive nudging of learners

Master Gurus and Gurus experience for assigned channels and key deliverables

Adherence to standard operating process and process audit

Meet the operations metric, SLA, targets and measurement of community metrics (e.g. metrics around adoption, access, ratings, feedback etc.)

Administrative set up of Guru Connects, Guru Forum and Solidify readiness

Skills
Graduation and Above
Excellent MS office skills – mail merge, macro creation knowledge is critical

Excellent written, verbal communication and presentation skills

Strong problem-solving skills to work effectively in a team environment

Internal / External Stakeholder coordination

Management Reporting and Escalation handling


Outstanding collaboration and interpersonal skills

Self-learning & development
Apply for Genpact Management Trainee: Click Here
Join Telegram Channel for Job Updates: Join Now