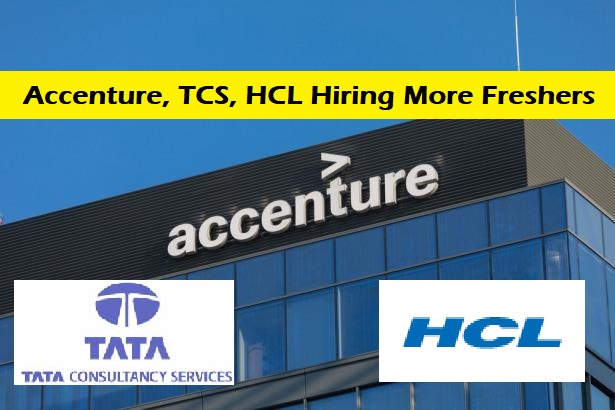 Accenture, TCS, HCL Hiring More Freshers in 2022. Gaint IT companies are hiring more number of freshers this year. Good opportunity for the freshers to show up their skill. Below is the complete news.
Accenture to Hire 1,50,000 Freshers
Accenture to Hire 1,50,000 Freshers using the metaverse. Will onboard 150,000 new employees on the first day who will use VR headsets to work from the metaverse. Compared to traditional learning methods, immersion has been reported to be 30-40% more effective. In the past, the company stated that the Metaverse and Web3 had transformed the virtual world. it is now rapidly transitioning to new-age technology.
Additionally, Accenture has established the Accenture Metaverse Continuum, a business group. Metaverses require a wide range of digital skills. There is a high demand for distributed ledger experts and token economists who are familiar with the economics of creating tokenized products.
Apply for Accenture Drive: Click Here
TCS announced to Hire 40,000 Freshers
TCS announced to Hire 40,000 Freshers in India. In the first quarter of FY23, the company plans to hire 40,000 people from the campus. In the quarter ended March 31, 2022, the company added 35,209 employees on a net basis.
Commenting on the hiring plans, N Ganapathy Subramaniam, COO, and executive director, TCS said that going forward from now, its hiring momentum will be similar to the last fiscal, "And we will start with a campus hiring number of 40,000 for the Q1 of Fy23." he added.
Apply for TCS NQT: Click Here
Join Our Telegram Group: Click Here
HCL Hiring 45,000 Freshers in FY23
HCL Hiring 45,000 Freshers in FY23. HCL Technologies is planning to hire nearly 45,000 freshers for FY23. Over the past year, the company has added 39,900 employees, which is double of what was added in FY21.
There are 2,08,800 employees at HCL Technologies. A total of 21.8 percent of the workforce has been attrited, up from 11.8 percent at the beginning of the year. The company has hired 23,000 freshers in FY22 and will hire 45,000 campus hires in FY23 in order to minimize attrition and meet rising demand.
Apply for HCL Jobs: Click Here
Recent Post
Cognizant Job Opportunity Hiring Any Graduate for Analyst
HashedIn by Deloitte Hiring Technical Graduates for Engineer