BSc Nursing Salary: In India, the average salary for a Fresher in the BSc Nursing field is Rs 2.7 LPA. An experienced employee can get an average salary package of Rs 5 LPA.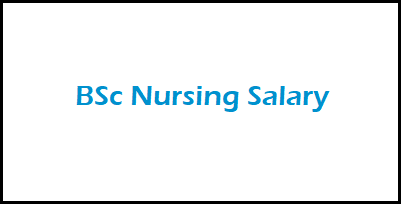 BSc Nursing Salary Details
Following Salary details of BSc Nursing are only for the freshers. List of roles offered for Freshers with an average salary.

| | |
| --- | --- |
| BSc Nursing Job Role | Average Freshers Salary |
| BSc Staff Nurse | 2.5 LPA |
| GNM Staff Nurse | 2.4 LPA |
| ANM Staff Nurse | 2,5 LPA |
| Nurse Educator | 2.8 LPA |
| Medical Coding | 3 LPA |
| Marketing Executive | 2.2 LPA |
| Registered Bsc Nurse | 2.4 LPA |
| Executive | 2.5 LPA |
| Assistant Nurse | 2.6 LPA |
| ICU Staff Nurse | 2.3 LPA |
Frequently Asked Question
Q1: What is the Salary of Bsc Nursing per month in India?
A: On average the fresher can get Rs 16,000 – Rs 20,000 in India.
Q2: What is the annual salary package of Bsc Nursing?
A:  It depends upon the role that is being offered. On a scale of per annum salary, the freshers can expect from Rs 2.4 to Rs 2.8 LPA.
Q3: What is the salary package of experienced BSc Nursing?
A: In terms of salary hike for BSc nursing the experienced one can get an annual salary package of 5-6 LPA.
Key Note: After completion of Bsc Nursing. The fresher can get a job in the private or government sector. Private sector salary differs from Government offered salary.
About BSc Nursing
BSc Nursing (Bachelor of Science in Nursing) is a four-year UG degree course. It plays the main aspect in the Healthcare field.
BSc Latest Jobs for Freshers: Apply
Join Our Group for Latest Off Campus Drives
More Fresher Salaries