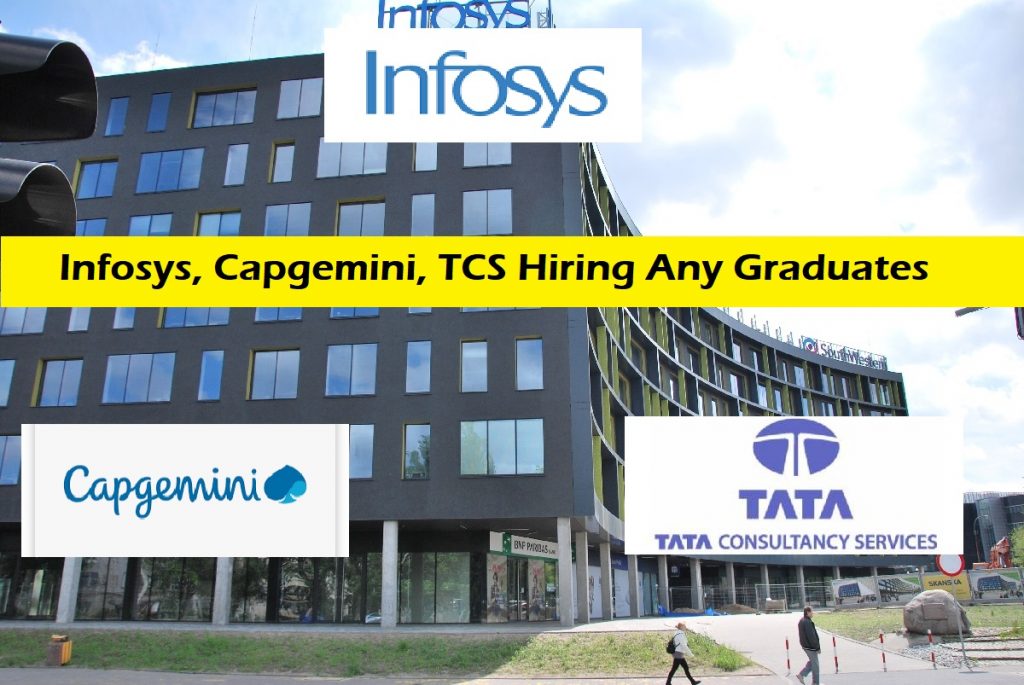 Infosys, Capgemini, TCS Hiring Any Graduates for Various Roles. Top IT companies in India are hiring freshers across India. Following is a detailed description of the hiring process of each company.
Infosys News
Infosys' chief financial officer Nilanjan Roy told journalists at a press conference after declaring the results of the fourth quarter, "In the last year, we have hired 85,000 freshers across India and globally. We are planning to hire upwards of at least 50,000 (this year) and will see how this plays out but that it just initials figures.". So this year Infosys will be hiring 50,000 freshers across India. Infosys currently hiring freshers for process executive and analyst transition role. Interested candidates can apply for the job role.
Apply for Infosys Job: Click Here
Capgemini News
Capgemini India Hiring 60,000 Employees with Work From Home for Freshers. Capgemini is an information technology company. According to the report, Capgemini is setting up labs to build solutions around emerging technologies for global customers, such as quantum, 5G, and the metaverse. These technologies are expected to be big growth drivers going forward. Capgemini hiring is already started both freshers and experienced candidates are being recruited. Candidates can grab this hiring opportunity. Below are the recruitment details mentioned.
Apply for Capgemini Job: Click Here
Join Official Telegram Channel: Join
TCS News
TCS announced to Hire 40,000 Freshers in India. In the first quarter of FY23, the company plans to hire 40,000 people from the campus. In the quarter ended March 31, 2022, the company added 35,209 employees on a net basis. Commenting on the hiring plans, N Ganapathy Subramaniam, COO, and executive director, TCS said that going forward from now, its hiring momentum will be similar to the last fiscal, "And we will start with a campus hiring number of 40,000 for the Q1 of Fy23." he added.
Apply for TCS Job: Click Here
Recent Post:
TCS WFH Opportunity Hiring Non-Technical Graduates | Freshers
EPAM Hiring Technical Graduates for Various Roles