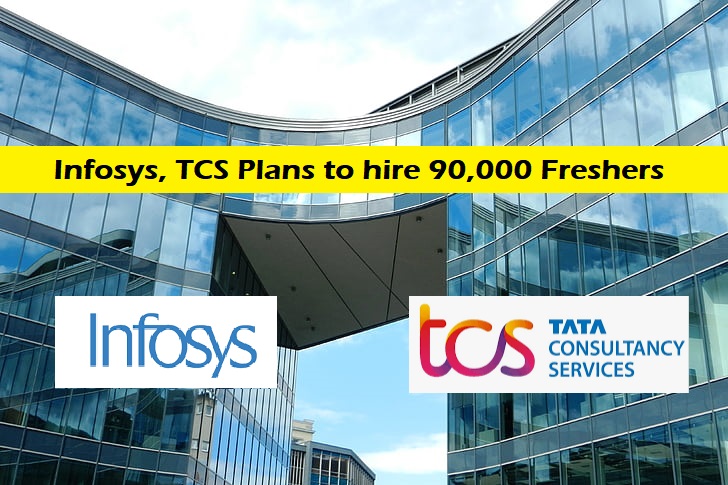 Infosys, TCS Plans to hire 90,000 Freshers in FY23. Infosys and TCS are hiring more freshers this year due to the increase in attrition rate. Infosys will be hiring 50,000 freshers whereas TCS will be hiring 40,000 freshers.

Infosys, TCS Plans to hire 90,000 Freshers in FY23
Tata Consultancy Services (TCS) hired over lakh freshers in FY22, with an additional 40,000 people expected in FY23. Infosys hired around 22,000 people in the fourth quarter, bringing its total workforce to 3,14,015 from 2,92,067 in December 2021.
Infosys Hiring Plans
Infosys' attrition rate reached 27.7% in the March quarter, up from 25.5% in the December quarter, but the management believed attrition actually decreased.
In the December 2021 quarter, the total headcount was 3,14,015, up from 2,92,067. The company has hired 54,396 freshers for this financial year and is hoping to hire over 50,000 more in FY23. 
Infosys' chief financial officer Nilanjan Roy told journalists at a press conference after declaring the results of the fourth quarter, "In the last year, we have hired 85,000 freshers across India and globally. We are planning to hire upwards of at least 50,000 (this year) and will see how this plays out but that it just initials figures."
Apply for Infosys Off Campus Drive: Click Here
TCS Hiring Plans
TCS announced to Hire 40,000 Freshers in India. In the first quarter of FY23, the company plans to hire 40,000 people from the campus. In the quarter ended March 31, 2022, the company added 35,209 employees on a net basis.
Commenting on the hiring plans, N Ganapathy Subramaniam, COO, and executive director, TCS said that going forward from now, its hiring momentum will be similar to the last fiscal, "And we will start with a campus hiring number of 40,000 for the Q1 of Fy23." he added.
A 17.4 percent attrition rate was recorded in Q4FY22. The 17.4 percent may be less than peers, who will soon announce their figures. In Q4FY21, the company reported 7.3 percent attrition. The attrition rate for TCS for the previous quarter, Q3FY22, was 15.3 percent.
These IT Gaint companies are rolling out an off-campus recruitment drive. Where freshers can register for the Interview.
Apply for TCS Ninja/Digital Job: Click Here
Apply for TCS BPS Non-IT Job: Click Here
Recent Post
Wipro Hiring Technical Graduates for Project Engineer | Freshers
Accenture and Tech Mahindra WFH Opportunity Hiring Any Graduates