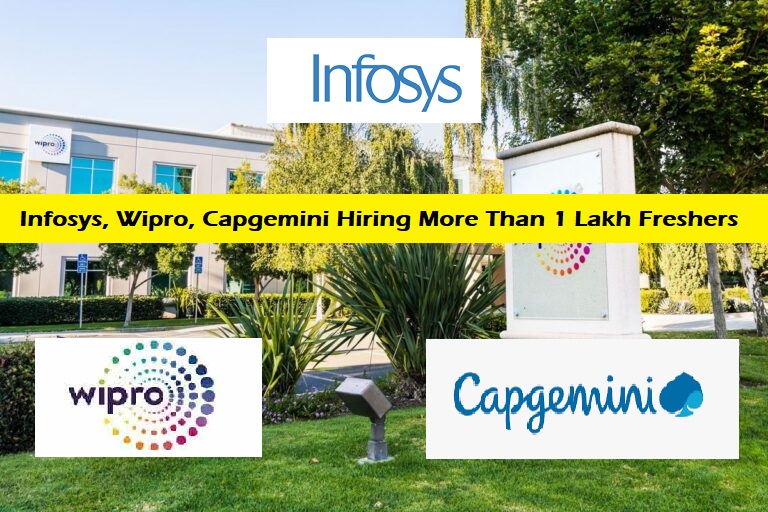 Infosys, Wipro, Capgemini Hiring More Than 1 Lakh Freshers. Top giant IT companies will be hiring more number of freshers this year. Already hiring has been started. Infosys is planning to hire 50,000 freshers, Wipro plans to hire 38,000 freshers where capgemini is planning to hire 60,000 freshers in India.
Infosys News
Infosys to Hire 50,000 Freshers in 2022 with Salary Hike this Month. The IT Tech giant, Infosys, announced that in the fiscal year 2022, which ended on March 31, they have already hired 85,000 freshers off-campus and on-campus. Infosys an Indian Information technology giant hiring more number of freshers this year.
In the December 2021 quarter, the total headcount was 3,14,015, up from 2,92,067. After the announcement of its Q4 results, Infosys is most likely to increase the salary of employees in the coming financial year to compensate for the higher workload. The company has hired 54,396 freshers for this financial year and is hoping to hire over 50,000 more in FY23. 
Apply for Infosys Jobs: Click Here
Join Our Telegram Group: Click Here
Wipro News

Wipro Plans to Hire 38,000 Freshers in FY23. The IT major will also increase the frequency of promotion cycles for 70% of employees in junior bands on a quarterly basis. During the quarter ended March 2022, it posted a consolidated net profit of Rs 3,087.3 crore, an increase of 3.87 percent over Rs 2,972.3 crore recorded in the same period last year.
Wipro's Global Chief Human Resources Officer, Saurabh Govil said, "the pressure continues as demand is robust. He also said that they are charting out a career path for the next five years for the fresh joiners."
During Q4 FY22, Wipro's attrition rate was 23.8 percent, compared with 15.5 percent at the beginning of the fiscal year. For its junior employees, the company has also adopted a quarterly promotion cycle to manage attrition. The shift to digital caused a spike in attrition as well as a surge in demand for talent.
Apply for Wipro Jobs: Click Here
Capgemini News
Capgemini India Hiring 60,000 Employees with Work From Home for Freshers. Capgemini is an information technology company. Provides IT services, solutions, and consulting worldwide. Has a total workforce of over 355,000 employees.
In India, Capgemini's growth is faster than the group's growth in 2021. This is because the firm will manage more operations from India. In addition, the initiative will focus on developing leaders in India who can then lead teams around the world. In the remainder of the year, demand is expected to remain strong and fuel hiring.
According to the report, Capgemini is setting up labs to build solutions around emerging technologies for global customers, such as quantum, 5G, and the metaverse. These technologies are expected to be big growth drivers going forward.
Apply for Capgemini Jobs: Click Here
Recent Post
NTT Data Hiring Non-Technical for Operations Representative
Sutherland Hiring Techies for Engineer Implementation