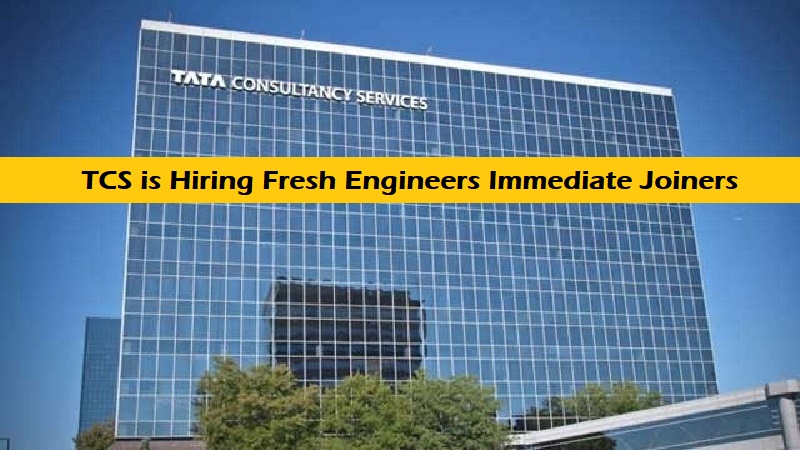 TCS is Hiring Fresh Engineers with Immediate Joiners. TCS has announced the hiring program for engineering graduates that are Passing in 2019, 2020 and 2021.
TCS Off Campus Hiring tests are on-going to invite immediate joiners and will be conducted in continuous batches depending on the date of your registration.
TCS is Hiring Fresh Engineers
To harness the abundance of talent and ensure no great potential misses out on the opportunity to build a greater future with us, we present to you TCS Off Campus Hiring for engineering graduates from the year of passing (YOP) 2019, 2020 and 2021.
Time is on your side, make the most of it and register now to begin your growth and transformation journey.
Eligible streams: B.E./B.Tech/M.E./M.Tech/MCA/M.Sc from the Year of Passing 2019, 2020 and 2021.
Join Official Telegram Channel: Join Now
TCS has been hiring more freshers this year and the company has already onboarded 43,000 freshers in the first half of the year. Also plans of hiring another 34,000 in the second half. TCS employees will increase by more than 110,000 this year and are planning to promote another 40,000 by March 2022. Primary target of the company is to hire more engineering graduates.
TCS is Hiring Engineering Students from B.E./B.Tech/M.E./M.Tech/MCA/M.Sc from any specialization offered by a recognized university / college. Students with prior work experience of up to 2 years are eligible to apply for the TCS Off Campus Hiring Process.
Minimum aggregate (all subjects in all semesters) marks of 60% or 6 CGPA in each of Class Xth, Class XIIth, Diploma (if applicable), Graduation and Post-Graduation examination is required.
Only full-time courses will be considered (part-time/correspondence courses will not be considered). Students who have completed their Secondary and/or Senior Secondary course from NIOS (National Institute of Open Schooling) are also eligible to apply if the other courses are full-time.
It is mandatory to declare gaps in education, if any. Overall academic gap should not exceed 24 months until highest qualification. Relevant document proof, as applicable, will be checked for gaps in education.
Apply for TCS Off Campus Hiring: Click Here
Join Our Telegram Group: Click Here
Also Read:
TCS to Hire 1 Lakh Freshers by 31st March
TCS NQT 2022 Registration Started