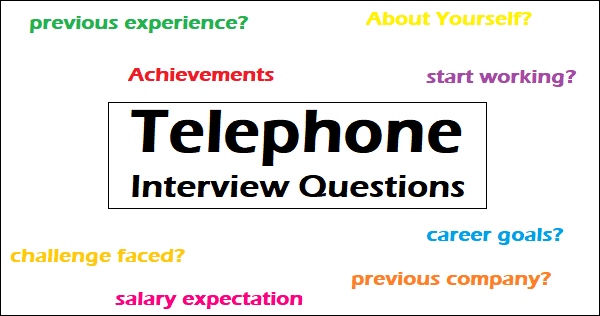 Telephone Interview Questions: Phone Interview is usually scheduled after clearing the initial face-to-face round with HR or Hiring manger. Many companies follow the telephone interview process for recruiting candidates. However, the interview is done remotely and candidates are asked some basic questions.
In the telephone interview, the hiring manager will ask you basic questions and will check your communication, voice, and decision-making skills. So to get success in clearing telephone interview you need to be prepared before accepting the call. However, there are many questions that the interviewer may ask the candidate. In this article, you can get yourself prepared by reading these 40 frequently asked telephonic interview questions.
Questions about Role and Work
1. Tell Me About Yourself?
2. Why are you searching for a job?
3. Why are you applying for this job?
4. How did you find this role?
5. Why do you like this Position?
6. Tell me something about this role?
7. What skills you have in your current role?
8. Challenges faced in your current role?
9. What are you passionate about this role?
10. What kind of opportunity you are considering for this role?
11. Can you describe your work style?
12. What you will be looking for more for your next job?
13. Are you interviewing with other companies?
14. Why will you succeed in this job?
Questions about your previous job/company
15. Why did you leave your last job?
16. Explain your previous experience?
17. Describe your job responsibility in your previous company?
18. Tell me about your day-to-day job at your last company?
19. What kind of management style do you prefer in a work?
20. What biggest challenge faced in your last company?
21. What are the Achievements in your last company?
Questions about their Company
22. Why do you want to work here?
23. What do you know about our company?
24. What attracted you to this company?
Common Questions
25. What is your salary expectation for this position?
26. What are your future career goals?
27. Where do you see yourself in five years?
28. What is your strength?
29. What is your weakness?
30. What are your interests and hobbies?
31. Are you willing to relocate?
32. When can you start working?
33. What is your motivation?
34. Do you have any questions for me?
Other Questions
35. Walk me through your resume?
36. Questions about skills technical/non-technical (mentioned in resume)
37. Asking examples related to your skills
38. Project-related questions
39. Problems faced while working on a project
40. Achievements in a project
I hope these questions will surely help you to prepare for a telephone interview. Be strong and confident while answering the questions. Take note and make sure you record the call.
---
Latest Freshers Jobs Check Details
Also Read: Job Interview Tips to Clear Aptitude, Technical, and HR Round
Read More: Top 10 Best Startup Companies in Bangalore – 2020
See More: Top 50 IT Companies in Bangalore
---