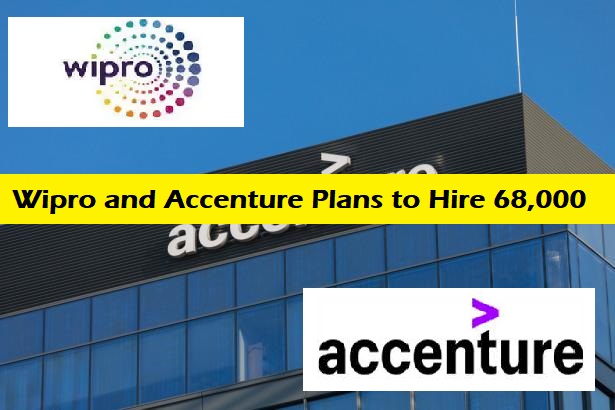 Wipro and Accenture Plans to Hire 68,000 Freshers in India. Gaint IT Company Wipro and Accenture will be hiring more number of freshers this year. Wipro will be hiring 38,000 freshers whereas Accenture will be hiring 30,000 freshers in India.
Wipro Hiring News
In FY23, Wipro plans to hire nearly 38,000 freshers. The company hired twice as many freshers as it did the previous fiscal year. Additionally, the company added 45,416 new employees for the year ended March 31, 2022, bringing its total headcount to 2,43,128. Compared to FY21, which added 14,826 employees, this was a very significant increase.
Wipro's Global Chief Human Resources Officer, Saurabh Govil said, "the pressure continues as demand is robust. He also said that they are charting out a career path for the next five years for the fresh joiners."
Govil added, "As we onboard large numbers of freshers, we have given them a clear career path, both from a compensation and career standpoint for the next five years,"
Apply for Wipro Jobs: Click Here
Accenture Hiring News
Accenture to Hire 30,000 Freshers in India | Accenture, a multinational company that provides information technology and consulting services, is on a hiring spree and accepting applications for 30,000 positions.
There are currently more than 2.5 million employees in India (according to data on Aug 31, 2021). Accenture could reach 3,00,000 employees in India by the end of 2022 as the hiring momentum continues with more than 30,000 positions open across the country.
During the next fiscal year, the company plans to hire 1,50,000 new employees through the metaverse. Currently, the company has around 30,000 lateral jobs in India, mostly in Bengaluru, Hyderabad, Chennai, Mumbai, and Gurugram.
Apply for Accenture Jobs: Click Here
Recent Post
Oracle Hiring Non-Technical Graduates for Accounting Support