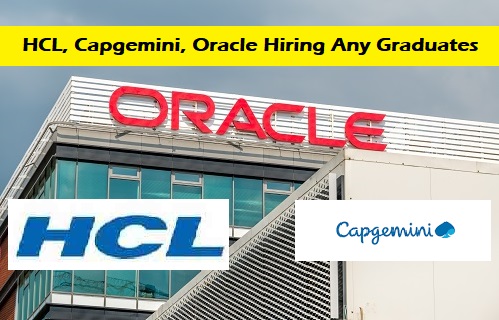 HCL, Capgemini, Oracle Hiring Any Graduates for Various Roles. IT Giants are conducting an off campus recruitment drive for freshers in multiple location. Following is a detailed description of the hiring process of each company.
HCL Hiring News

HCL Hiring Any Graduates for Executive | WFH Jobs for Freshers & Experienced. HCL is conducting an off campus recruitment drive. Here are the HCL Job description, recruitment process and details. HCL has started hiring freshers for various roles such as Executive/Software Engineer/Analyst roles.
Apply for HCL Jobs: Click Here
Capgemini Hiring News
Capgemini will be hiring more number of freshers this year. Capgemini to Hire 60,000 Employees in India 2022. In India, Capgemini has grown faster than the group as a whole in 2021. India would play a more important role in managing operations for the company. The program will also develop leaders in India who will lead teams globally. The demand outlook for the rest of the year remained strong and fuelling the hiring drive.
Similarly, Capgemini has an academy for cloud and AI where it is building specific competencies, and for cybersecurity. "We see trends across all of these some, like cloud and data, have become more mature," Yardi further said. "We will see more business use cases coming with a broader focus on metaverse and quantum." He added. (Capgemini To Hire 60,000).
Apply for Capgemini Jobs: Click Here
Join Official Telegram Channel: Join Now
Oracle Hiring News
Oracle company is recruiting more freshers and experienced through its career portal. Oracle is offering job roles such as Associate Software developer, Support Engineer, QA Engineer and many more. The hiring has already started and application are invited to apply.
Apply for Oracle: Click Here
Recent Post:
Wipro Hiring Any Graduates and Under Graduates for Associate