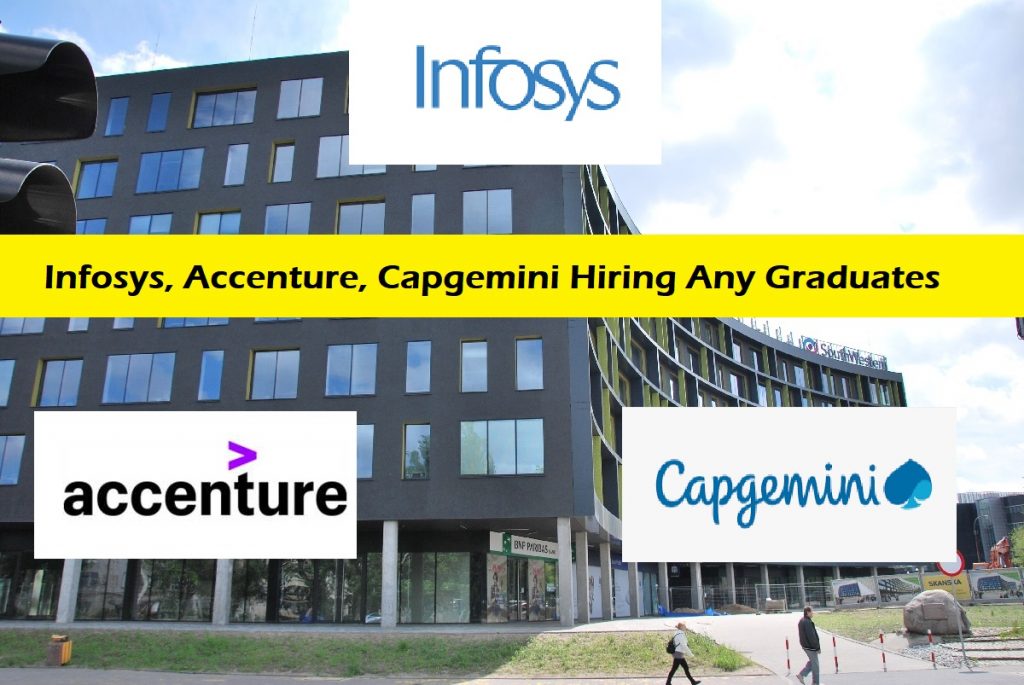 Infosys, Accenture, Capgemini Hiring Any Graduates for Various Roles. Top IT Companies are hiring freshers across India. Following is a detailed description of the hiring process of each company.
Infosys News:
Infosys to Hire 50,000 Freshers in 2022 with Salary Hike this Month. The IT Tech giant, Infosys, announced that in the fiscal year 2022, which ended on March 31, they have already hired 85,000 freshers off-campus and on-campus.

Infosys' chief financial officer Nilanjan Roy told journalists at a press conference after declaring the results of the fourth quarter, "In the last year, we have hired 85,000 freshers across India and globally. We are planning to hire upwards of at least 50,000 (this year) and will see how this plays out but that it just initials figures."
Infosys already started hiring freshers for System Engineer and Operation Executive role. Eligible candidates can apply for the job role.
Apply for Infosys Jobs: Click Here
Accenture News:
Accenture to Hire 1,50,000 Freshers using the metaverse. Will onboard 150,000 new employees on the first day who will use VR headsets to work from the metaverse. Accenture is an Information technology company that offers services in IT, BPO, Consulting, Application, and Infrastructure Outsourcing.
Employees will meet, collaborate, and learn on the Nth floor, the company's virtual campus in the metaverse. Accenture has started hiring freshers for Associate Software Engineer and Application Services Associate.
Apply for Accenture Jobs: Click Here
Join Official Telegram Channel: Join
Capgemini News:
Capgemini India Hiring 60,000 Employees with Work From Home for Freshers. Capgemini is an information technology company. Provides IT services, solutions, and consulting worldwide. Has a total workforce of over 355,000 employees.
In India, Capgemini's growth is faster than the group's growth in 2021. This is because the firm will manage more operations from India. In addition, the initiative will focus on developing leaders in India who can then lead teams around the world. In the remainder of the year, demand is expected to remain strong and fuel hiring.
Capgemini is hiring freshers for various role. Currently hiring freshers through Exceller and eligible candidates can apply for the job.
Apply for Capgemini Jobs: Click Here
Recent Post:
Accenture, TCS, HCL Hiring More Freshers in 2022