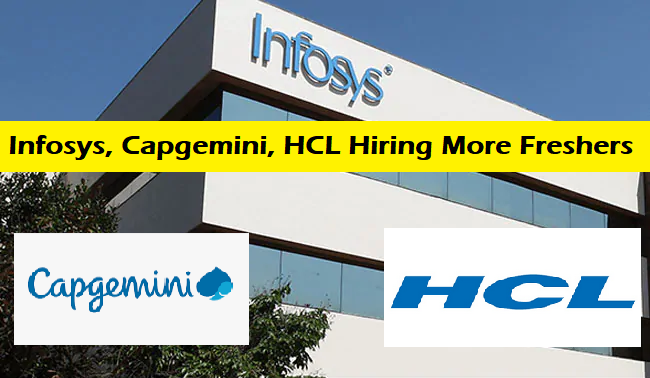 Infosys, Capgemini, HCL Hiring More Freshers in 2022. Gaint IT companies are planning to hire more number of freshers this year. Good opportunity for the freshers to show up their skills.
Infosys to Hire 50,000 Freshers
Infosys to Hire 50,000 Freshers in 2022 with Salary Hike this Month. The IT Tech giant, Infosys, announced that in the fiscal year 2022, which ended on March 31, they have already hired 85,000 freshers off-campus and on-campus. Infosys' attrition rate reached 27.7% in the March quarter, up from 25.5% in the December quarter, but the management believed attrition actually decreased.
In the December 2021 quarter, the total headcount was 3,14,015, up from 2,92,067. After the announcement of its Q4 results, Infosys is most likely to increase the salary of employees in the coming financial year to compensate for the higher workload. The company has hired 54,396 freshers for this financial year and is hoping to hire over 50,000 more in FY23. 
Apply for Infosys Jobs: Click Here
Capgemini India Hiring 60,000 Employees
Capgemini India Hiring 60,000 Employees with Work From Home for Freshers. Capgemini is an information technology company. Provides IT services, solutions, and consulting worldwide. Has a total workforce of over 355,000 employees.
"We are globally about 355,000 employees and half of them are in India, and we continue to see good headcount growth," Yardi told ET.
"The new hires will be a mix of fresher hiring and lateral talent, with a focus on emerging areas like 5G and quantum," he added. Capgemini launched a 5G lab in India last year along with the partnership with Ericsson. It is seeing a lot of traction. "We've been working with some of the global and Indian service providers to build industry use cases on 5G," he said.
Apply for Capgemini Jobs: Click Here
Join Our Telegram Group: Click Here
HCL Hiring 45,000 Freshers in FY23
HCL Hiring 45,000 Freshers in FY23. HCL Technologies is planning to hire nearly 45,000 freshers for FY23. Over the past year, the company has added 39,900 employees, which is double of what was added in FY21.
As a result of rising attrition and continued demand for IT services. The companies now plan to increase the number of workers. In March 2022, HCL released its fourth-quarter financial performance results.
There are 2,08,800 employees at HCL Technologies. A total of 21.8 percent of the workforce has been attrited, up from 11.8 percent at the beginning of the year. The company has hired 23,000 freshers in FY22 and will hire 45,000 campus hires in FY23 in order to minimize attrition and meet rising demand.
Apply for HCL Jobs: Click Here
Recent Post
Wipro WFH Opportunity Hiring for Various Roles | Any Graduate
Tata Business Hub WFH Opportunity Hiring for Junior Developer