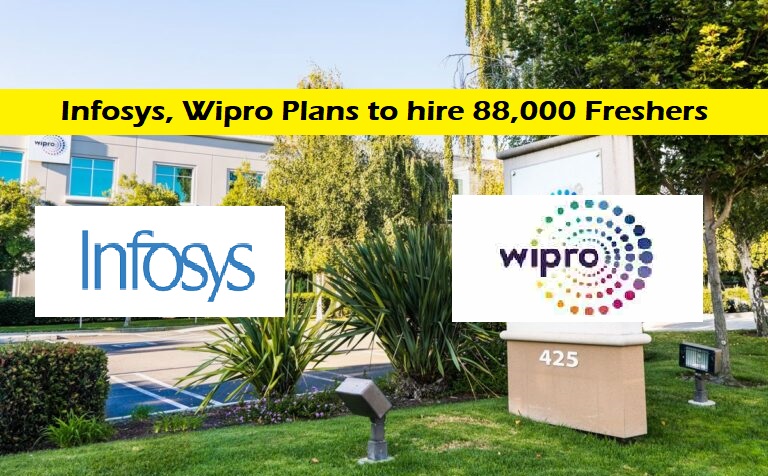 Infosys, Wipro Plans to hire 88,000 Freshers in FY23. Gaint IT Company Infosys and Wipro will be hiring more number of freshers this year. Infosys will be hiring 50,000 freshers whereas Wipro will be hiring 38,000 freshers in India.
Infosys, Wipro Plans to hire 88,000 Freshers
As attrition rate is increasing many employees are leaving the company. To cover up the attrition rate and meet the market demands both the Infosys and Wipro are hiring huge number of freshers this year.
Infosys Hiring and News

The Bengaluru-based IT major reported an attrition rate of 27.7% in the March quarter, up from 25.5% in the December quarter. Over 80,000 employees have resigned from the company between January-March 2022.
In the December 2021 quarter, the total headcount was 3,14,015, up from 2,92,067. After the announcement of its Q4 results, Infosys is most likely to increase the salary of employees in the coming financial year to compensate for the higher workload. The company has hired 54,396 freshers for this financial year and is hoping to hire over 50,000 more in FY23.
"In the last year, Infosys have hired 85,000 freshers across India and globally. Moreover, planning to hire upwards of at least 50,000 (this year) and will see how this plays out but that it just initials figures."
Join Official Telegram Channel: Join
Apply for Infosys Off Campus Drive: Click Here
Wipro Hiring and News
In FY23, Wipro plans to hire nearly 38,000 freshers. The company hired twice as many freshers as it did the previous fiscal year. Additionally, the company added 45,416 new employees for the year ended March 31, 2022, bringing its total headcount to 2,43,128. Compared to FY21, which added 14,826 employees, this was a very significant increase.
Wipro hiring will be in through various programs. Most of the engineering graduates will be hired under Project engineer role. Other candidates will be hired through the Step-up, WILP program.
Wipro's Global Chief Human Resources Officer, Saurabh Govil said, "the pressure continues as demand is robust. He also said that they are charting out a career path for the next five years for the fresh joiners."
Govil added, "As we onboard large numbers of freshers, we have given them a clear career path, both from a compensation and career standpoint for the next five years,".
Apply for Wipro NTH Project Engineer: Click Here
Recent Post
NCS Recruitment 2022 Hiring Graduates for Trainee Engineer
Optum Hiring Fresh Graduates for Associate Analyst