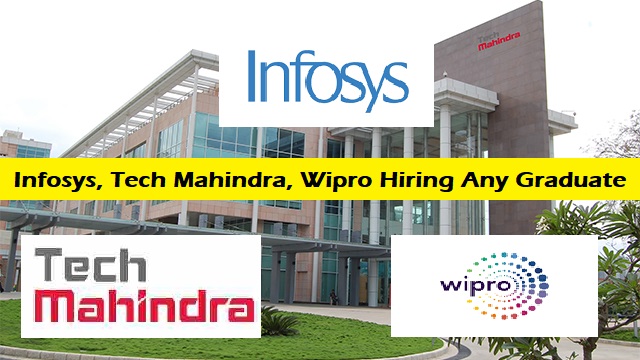 Infosys, Tech Mahindra, Wipro Hiring Any Graduate for Various Roles. Top Gaint IT companies started Hiring Freshers across India. Infosys, Tech Mahindra, Wipro Hiring freshers through recruitment drives. Following is a detailed description of the hiring process of each company.
Join Our Telegram Group: Click Here
Infosys Hiring News
Infosys will be hiring more freshers in India through off campus recruitment drives. Planned to hire 50,000 Freshers this year. Currently Infosys is hiring freshers for Process Executive and Analyst roles.
SLA Process compliance, Resource Planning, Business process improvement
Knowledge of operation management
Driving Daily/Weekly/Monthly Governance calls with client.
Self-starter, having a proactive approach in terms of process improvement, identifying risks and engaging client.
Transition Planning / Project Management: To execute transition projects (focusing on timelines, resource
allocations, and budgets) for his/her respective area within the transition project. Coordinate and control the
implementation of his/her transition track/area
Apply for Process Executive: Click Here
Apply for Analyst: Click Here
Wipro Hiring News
Wipro hiring both Engineers and Non-Engineers across India. All the hiring will be through recruitment programs. Candidates with technical, accounts, finance, and Non-technical background are eligible to apply for the job role.
B.E./B.Tech. (Compulsory Degree)/5 year Integrated courses (Project Engineer Role)

60% in 10th and 12th standard
6.0 CGPA or 60% in graduation

BBM/BBA/B.Com/BA/BSc/BA/BMS

(Non-Technical Role)
Full-time course recognized by the Central/State Government of India. Candidates with part-time or correspondence or distance learning education for their degree, 10th or 12th are not eligible.
Even candidates with BCA/B.Sc gradates will be hired through the WILP program
Wipro has also started hiring freshers with Diploma Graduates
Apply for Project Engineer: Click Here
Apply for Non-Technical: Click Here
Tech Mahindra Hiring News
Tech Mahindra recruitment drive has been started for the candidates with engineering graduates. The role that will be offered is Associate Software Engineer and freshers across India are eligible to apply for the job role.
BE/B.Tech – Computer Science/Computer Engineering/IT/E&C/E&TC/Telecom/Communication/Electronics/Cybersecurity or M.Sc. (Cyber Security) or MCA/M.Sc. (Computer Science)
Candidate should have scored min. of 60% (without rounding-up) in SSC/ 10th, HSC/ 12th/Diploma (if done) and BE/ B.Tech/ MCA/ M.SC.(Computer Science)
There should be no loss of 1 or more academic years after joining a course, post completing SSC
Apply for Tech Mahindra: Click Here
Recent Post
Wipro and HCL Hiring Any Graduate for Various Roles
Bosch Hiring Technical Graduates for Software Developer | Freshers