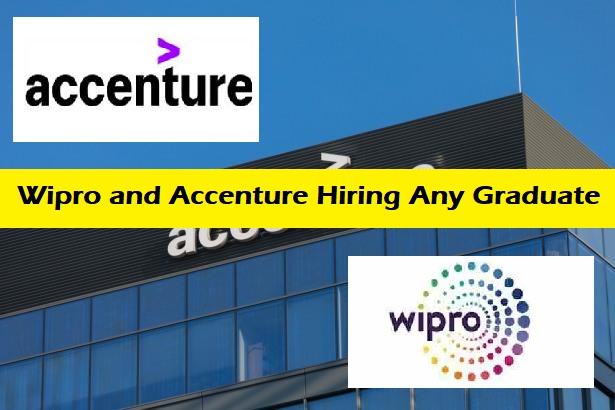 Wipro and Accenture Hiring Any Graduate for Various Roles. Top IT companies are hiring freshers across India. Both Wipro and Accenture started hiring fresh graduates. Following is a detailed description of the hiring process of each company.
Wipro Hiring
Wipro is all set to hire more number of freshers this year. As per the latest report Wipro company is planning to hire 38,000 freshers across India. The Wipro recruitment drives are rolled up and started hiring both technical and non-technical graduates.
Project Engineer
Elite National Talent hunt (NTH) is our fresher's hiring program to attract the best of 2021 and 2022 engineering graduates across the country.
We're enabling equal employment opportunities for India's deserving engineering talent and are looking for you.B.E./B. Tech (Compulsory degree)/ M.E./M. Tech (5-year integrated course) full-time course recognized by the Central/State Government of India
Apply for Wipro Project Engineer: Click Here
Wipro Step Up and WADiC
Graduation in BBM/ BBA/ B. Com – (General and Allied Branches)/ BA(Economics)/ BSc (Economics)/ BA(Psychology)/ BMS with 60% or 6.0 CGPA or its equivalent
2020, 2021, 2022
10th Standard: 60% or above
12th Standard: 60% or above
Apply for Wipro Non Tech Roles: Click Here
Join Our Telegram Group: Click Here
Accenture Hiring
Accenture is also starting to hire huge number of freshers this year. Will onboard 150,000 new employees on the first day who will use VR headsets to work from the metaverse.
Software Engineer
Design, build, test, assemble, support and configure application using business requirements
Understand business drivers that will impact performance and deliver software to those expectations
Bake technology trends into solutions; Participate in the development of automation solutions, new functionality and technologies and integrate them in existing solutions
All streams/branches of B.E/B.Tech/M.E/M.Tech, MCA, and M.Sc. (CSE, IT only) from 2019, 2020, 2021 and 2022 year of pass outs with full-time education only (Part-time and distance educations are not considered)
All streams/branches of M.C.M, M.Sc, M.A, M.Com, M.FA, B.Sc., BCA, BBA, B.A, B.Com, B.Voc and BMS from 2019, 2020, 2021 and 2022 year of passouts with full-time education only (Part-time and distance educations are not considered)
Apply for Accenture Software Engineer: Click Here
Recent Post
Standard Chartered Hiring Any Graduate for Associate
Optum Hiring Fresh Graduates for Associate Analyst