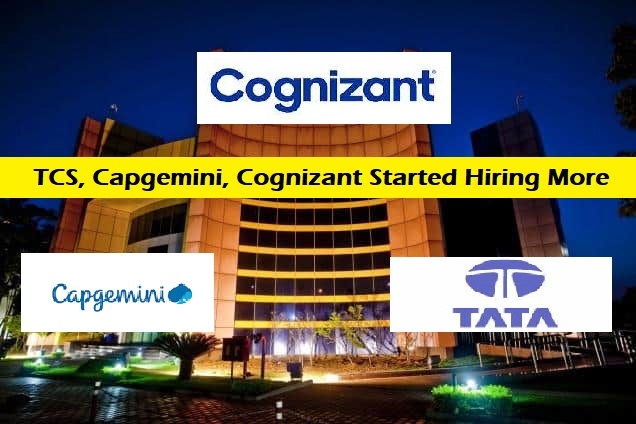 TCS, Capgemini, Cognizant Hiring More Number of Freshers in 2022 | Gaint IT companies are ramping up their hiring numbers as there is a lot of high talented freshers required.
TCS Hiring News
TCS Global Head HR Milind Lakka said, "As you know, we had onboarded 43,000 freshers in the first half of the year, all trained on the latest technologies. And in our last call, we had indicated plans of hiring another 34,000 in the second half. I am happy to inform you that we achieved the figure in Q3 itself and are now planning to hire some more in Q4."
TCS has planned to hire more than 1 Lakh freshers. Hiring has already started across India through various recruitment drives. Every gradautes and post gradautes are eligible to apply at Tata Consultancy Services.
TCS is Hiring Freshers for Various roles across India
Join Official Telegram Channel: Join Now
Capgemini Hiring News
Ashwin Yardi, the company's CEO. "We are globally about 325,000 employees and half of them are in India, and we continue to see good headcount growth," Yardi told ET. The new hires will be a mix of fresher hiring and lateral talent, with a focus on emerging areas like 5G and quantum, he said.
Several new emerging technologies, such as quantum, 5G, and metaverse, as well as the expectation of big growth drivers going forward, are driving Capgemini to set up labs to develop solutions around these technologies.
Similarly, Capgemini has an academy for cloud and AI where it is building specific competencies, and for cybersecurity. "We see trends across all of these some, like cloud and data, have become more mature," Yardi further said. "We will see more business use cases coming with a broader focus on metaverse and quantum." He added.

Capgemini to Hire 60,000 Employees in India 2022
Capgemini Hiring Freshers with Any Graduate
Cognizant Hiring News
The Gaint IT Cognizant is planning to hire 50,000 freshers across India in 2022. The company previously recruited more than 33,000 freshers, which is twice as many as the number recruited in 2020 (17,000 freshers). The Cognizant finished the year with an employee count of 330,600, which is up 14 percent over the previous year.
The hiring of 50,000 freshers is one of the highest ever number from the company. It is good news for college graduates and freshers to apply for the Opportunities at Cognizant.
Cognizant Hiring Any Graduates for Various Roles
Join Our Whatsapp Group: Click Here
Join Our Telegram Group: Click Here
Also Read:
Tata Technologies Recruitment 2022 for Graduate Engineer Trainee